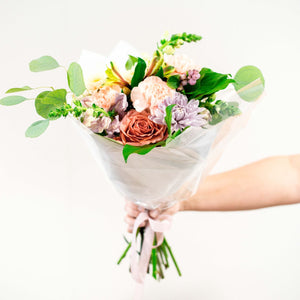 Bouquet Subscription
How it works
Sign up for Weekly, Bi-Weekly, Monthly or every 12 weeks Seasonal Bouquets.
Your flowers will be delivered the first Thursday following the date you purchase your subscription and every Thursday afternoon following for the length of the subscription. For monthly or seasonal subscriptions they will be delivered the first Thursday of the month. Please add additional instructions or notes in the card message box. 
Delivery is complimentary as a member of the Flower Club.
Flower varieties will change week by week depending on what is in season and will give you an opportunity to see what amazing flowers are grown.
All orders include delivery, and a pre-printed note if you're sending one as a little pick-me-up to a friend.
Note: please email Roseandvineyqr@gmail.com no later than 2 days in advance of your scheduled Delivery Date in the event you will be out of town or unable to receive the floral arrangement.
Please select Local Pick up at check out to avoid being charged delivery.
---
We Also Recommend